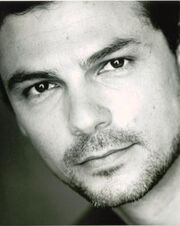 Jonathan Marc Pasvolsky
known as
Jonny Pasvolsky
is an Australian actor (born 26 July 1972 in Cape Town, South Africa) best known for his role (Rob Shelton/Matt Bosnich, 2005–2007) in
McLeod's Daughters
, which he received a nomination for as "Most Popular New Male Talent" at the Logie Awards of 2006.
He starred as Mr. Hooper in Hey, Hey, It's Esther Blueburger and played Antonio Morelli in the UK.TV mini-series False Witness.
His brother Steve (Deck Dogz, 2005) received an Oscar nomination in 2003 for his short-movie "Inja".
Jonny Pasvolsky and wife Carolyn welcomed a baby girl on Wednesday October 24, 2007 in Los Angeles.
Jonny plays Peter Vinetti in Mr and Mrs Murder.